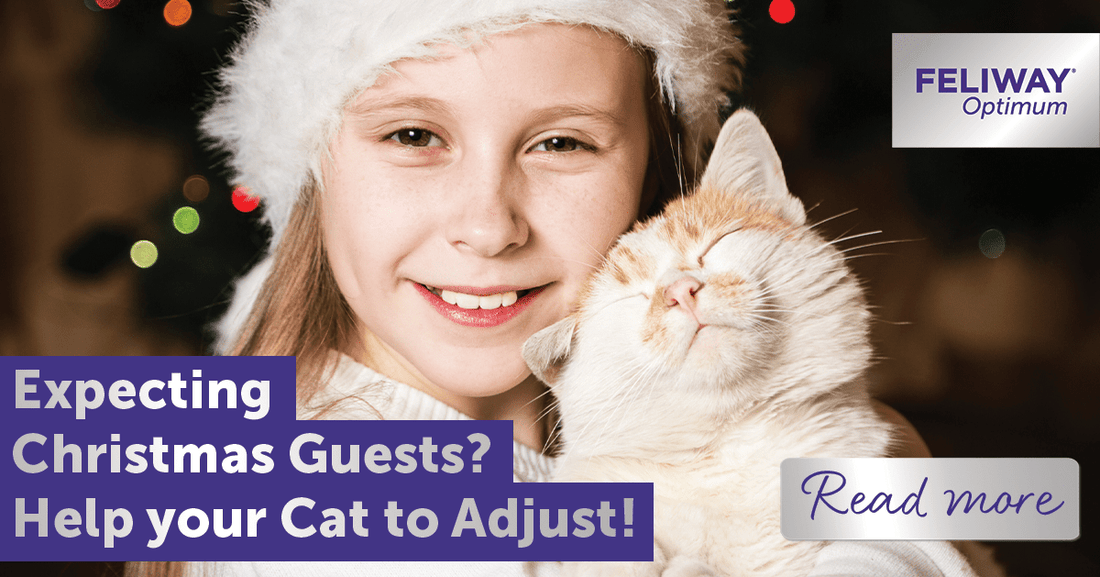 Expecting Christmas Guests? Help Your Cat to Adjust!
As the excitement ramps up for Christmas, some of us will no doubt be expecting Christmas guests, some maybe for a short period of time and some who will be staying over.
From a cat's perspective, Christmas is an odd time; as well as having strangers in the house, we change furniture around, install a Christmas tree, hang lots of shiny and tempting objects around the house, have parties, make lots of noise and change our routines, and our cats don't quite know what to make of it all.
So how can you help your cat adjust to have a calmer Christmas?
Help your Cat Adjust to Christmas Guests
Plan ahead
You and your family will no doubt get busier with additional work and school celebrations, and you will probably begin to feel the pressure of getting things done in time, so good planning and making changes around the home slowly will not only help you, but will also be super helpful to your kitty too.
Make changes slowly
Although generally cats are averse to change, cats do like to explore new things. Spread any changes to your home over a period of time to allow your cat to adjust in their own time:  
Make any furniture adjustments first to allow your kitty to get accustomed to the new layout.
After a few days, introduce the Christmas tree to the room, but remember, cats love to climb and will definitely see the new tree as fair game, so make sure you take steps to cat-proof it, to avoid accidents.
Let more time pass before you hang any other home decorations around, such as garlands, swags, ribbons, tinsel. We all love glitter and baubles at Christmas, but some of these can be dangerous, so make sure you take the necessary precautions to ensure your cat stays safe. 
When buying supplies for the festive period, don't forget to get enough food, litter, medications for your cat, too! And read up on what your cat can and can't eat for their Christmas dinner!
If your cat currently has access to a room that will be used by guests over Christmas, make that room inaccessible to your cat a week or so before guests arrive. Move any of your cat's belongings to another safe space to allow them to adjust in good time.
Plug in FELIWAY Optimum in your cat's preferred room, where they are likely to spend most of their time, to help create a calming and serene environment during such a busy time. 
You might want to consider having extra resources (food and drink bowls, beds, litter trays) around the house, so that your cat has options when guests are using rooms in the house in a different way to what your cat is used to.
Whilst hosting your guests
When your guests arrive, there will be a lot of welcomes and loud chatter and they may well want your cat to join in. The chances are, your kitty will have taken in the scene and disappeared to their safe spot, they are not always very keen on visitors.
Make sure to follow our top tips to help your cat adjust to Christmas guests. Ensure your guests know how to greet your cat and encourage them not to try and pick the kitty up, but to allow them to come and introduce themselves when they are ready. When this happens, make sure your guests know how to approach and stroke your cat, but always keep a close eye for any signs of stress or anxiety. If they spot your cat slow blinking and winking, they've found a new feline friend!
As Christmas celebrations and changes can last for over a week, FELIWAY Optimum is a great way to provide enhanced serenity to your cat over the Christmas and New Year period, as it lasts for 30 days. Just plug it in where your cat spends most of their time to help them adjust to the festive period.
If gifts are being exchanged, try and remove discarded ribbons, decorations and confetti etc. before your cat wants to investigate. A scrunched-up ball of wrapping paper might be an excellent new toy for your cat, and don't forget that cats love cardboard boxes!
If you are worried about how your cat will cope with the changes the Christmas period brings, speak to your vet to check for underlying medical issues which could be affecting them and discuss a management plan with a qualified behaviourist.