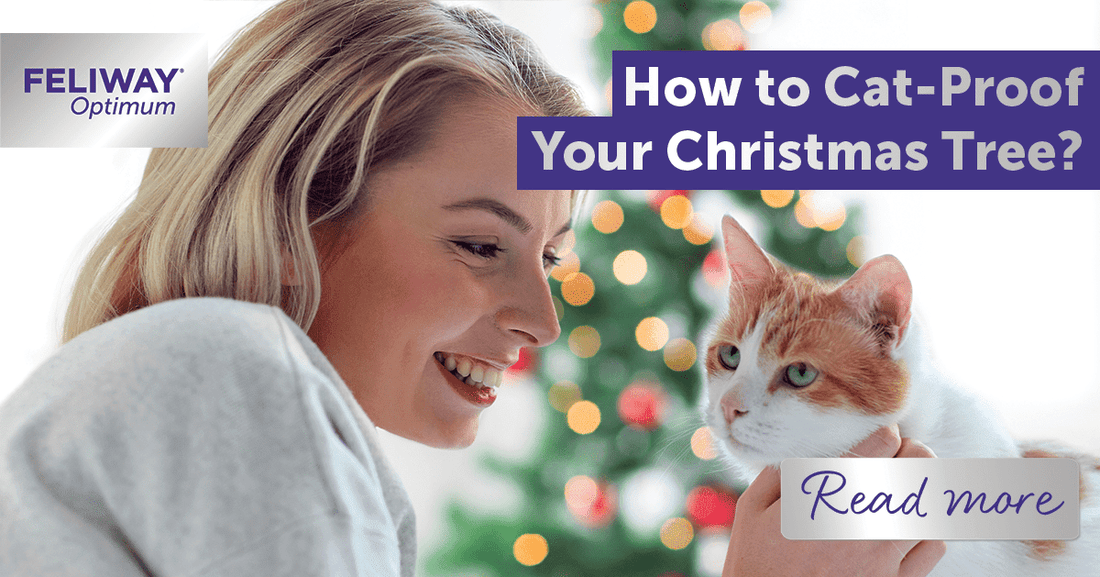 How to Cat-Proof Your Christmas Tree
Cats love to climb - so when we install a tree inside the house, your cat may well feel that all their Christmases have come at once!
Imagine their excitement when they see a large green tree with lots of branches to pounce upon! Not only that but a tree is tempting, with lots of sparkle, flashing lights and dangling decorations that they can play with - they don't even have to go outside to find it!  
But to ensure your kitty enjoys Christmas just as much as you do, it's important that you take into account your cat's natural feline inquisitiveness and cat-proof your Christmas tree to ensure both you and your cat enjoy the holiday season safely.
How to Cat-Proof your Christmas Tree
Although cats don't like change, curiosity is a common feline trait and often gets the better of them! How often have you unpacked an item and then found your kitty inside the cardboard box?
Christmas trees are no different - trees are for climbing, according to cats, so it will be a natural instinct that your cat wants to climb your Christmas tree!  Here are some things you should consider to cat-proof your Christmas tree:

Artificial or real tree?
Real Christmas Tree:  
If you like the smell of pine in your home and opt for a real tree, try and purchase a 'no needle drop' one, like a Nordmann Fir or a Norway Spruce. Needles can be dangerous for your cat if ingested, so try and purchase a tree that has been freshly cut to minimise needle drop.
You can also help the longevity of your tree, delay needle shedding and keep your cat safer, if you:
Buy a tree that is freshly cut; double check by shaking the tree and if no needles fall, it is fairly fresh.
Keep it in the cool, outside if possible, until you are ready to install it.  The heat of your house will speed up the drying process and needle drop.
Install your tree in a bucket of water, making sure you keep it topped up at all times
Avoid setting your tree up next to radiators, fires etc. as this will speed the drying process.
If your tree is still in soil, or sitting in a water reservoir, make sure this is covered up so that your cat does not either drink the water or use the soil as a toilet.
Regularly sweep up any dropped needles to keep your cat safe.
Artificial Christmas Tree:
If you opt for an artificial tree which you can re-use year on year, make sure you purchase a sturdy one that has a strong heavy base to avoid it toppling over;  a slimmer version of a Christmas tree might also be less appealing to your cat as the branches are shorter and more difficult to climb or investigate.
Size and location of the tree
The larger the tree, the more tempted your cat will be to climb it!  Although you may want to have a tree that has a festive impact, consider:
A smaller tree will be less tempting to your cat to climb
Don't put your tree in your cat's favourite spot;  it will unsettle them if they can't snuggle up on the windowsill because it is being blocked.
Place the tree in a room that can be locked away if you are not around to supervise;  this will avoid accidents if your cat decides to explore or climb when you are not at home.
Make sure it has a wide, solid base to avoid it falling over
If possible, try and anchor it to a wall or the floor.
If the tree is free standing, keep it at a safe distance from other objects and never put it close to an open fire; if it does topple, this will minimise damage or fire risk.
Cats always climb a tree close to the trunk, so using a Christmas tree defender can stop a cat from climbing up your tree from the inside, as it will block their route upwards.
However, it won't stop them from using other objects as a 'launch pad' to the middle of the tree, so try to place the tree away from nearby furniture or shelves.

[H2] Christmas Tree Decorations
These are just as important as the Christmas tree to make your home feel festive, but careful consideration should also be given to decorations in order to keep your feline friend safe.
To keep your kitty safe this Christmas, consider:
Only using baubles that are shatterproof; tiny pieces of glass or plastic can be dangerous if these are ingested by your cat
Secure the baubles firmly onto the tree with a wire tie, rather than leaving them to dangle. We know how cats love to chase dangling toys so consider placing the baubles on the inside of the branches and not at the end, to avoid temptation.
Consider leaving tinsel off the tree and draping it somewhere else in the room where it is inaccessible to your cat; opt for other decorations if possible as if tinsel is ingested it could cause a blockage in their gut.
Make sure the wire for your Christmas lights is covered up at the base of your tree and don't leave wires hanging; cats will be tempted to play with anything that is dangling.
Unplug Christmas lights when you are not in the room - just in case your feline friend feels like chewing something when unsupervised.
Use a cord protector to cover up excess wire that may be lying along the floor to an electrical wall socket.
Avoid using edible decorations - remember chocolate can be toxic for cats.
Try hanging bells on the branches of the tree; not only is it a pretty Christmas sound, but they will ring if your cat disturbs them and will give you a warning to rescue your cat - and the tree!
Don't leave your cat and the tree in the same room unsupervised!
Other Christmas Decorations
We all like to keep our homes cat-friendly throughout the year, whatever the season, and love to decorate our house with all things pretty and sparkly. However, at Christmas caution should be taken with:
Hooks: Use ribbon or twine (rather than hooks) to secure any decorations around the house. Hooks can get caught in a cat's ears or tail, causing injury. However, if you're using ribbon or twine, it's also important to ensure that they're secure and can't be ingested by your cat either.
Christmas candles: Your cat may be attracted to a flickering candle but may burn their whiskers or paws when investigating. Never leave a candle unattended, especially in the same room as your cat.
Potpourri: Many liquid potpourri products and essential oils are poisonous/toxic to cats, including oil of cinnamon, citrus, pennyroyal, peppermint, pine, sweet birch, tea tree (melaleuca), wintergreen, and ylang ylang.
House plants: Plant gifts are common at Christmas but the following should be avoided if there is a cat in the home:

All Lilies (these are very poisonous to cats at any time of the year)
Mistletoe
Amaryllis
Daffodils
Hyacinths
Iris
Poinsettias
If you think your cat has chewed on any of these, they should be checked by a vet immediately.
Artificial snow: This can contain dangerous chemicals which can make your cat feel poorly if ingested.
Snow globes: These contain antifreeze which is toxic to cats so should only be on show in areas where the cat doesn't go, or avoided altogether.

Distraction Tactics
If you find your feline friend is overly interested in your Christmas tree, fit in some extra playtime with them in a different room or area to distract them from your tree.
Decorate their cat tower with some cat-friendly Christmas toys or some Christmas cat treats.  Pet shops normally have a good selection of these during the Christmas season.
Remember that your cat will probably need extra support during the festivities. As well as the tree and decorations, you will probably have lots of people coming and going, parties and more visitors or noise than usual.
Using FELIWAY Optimum will help your cat feel relaxed and serene during the holiday period, allowing you all to enjoy the season at its best.  Plug FELIWAY Optimum into the room where your cat will be spending most of its time and you will soon find that your cat will relax and may even ignore the Christmas tree (for a little while anyway!).