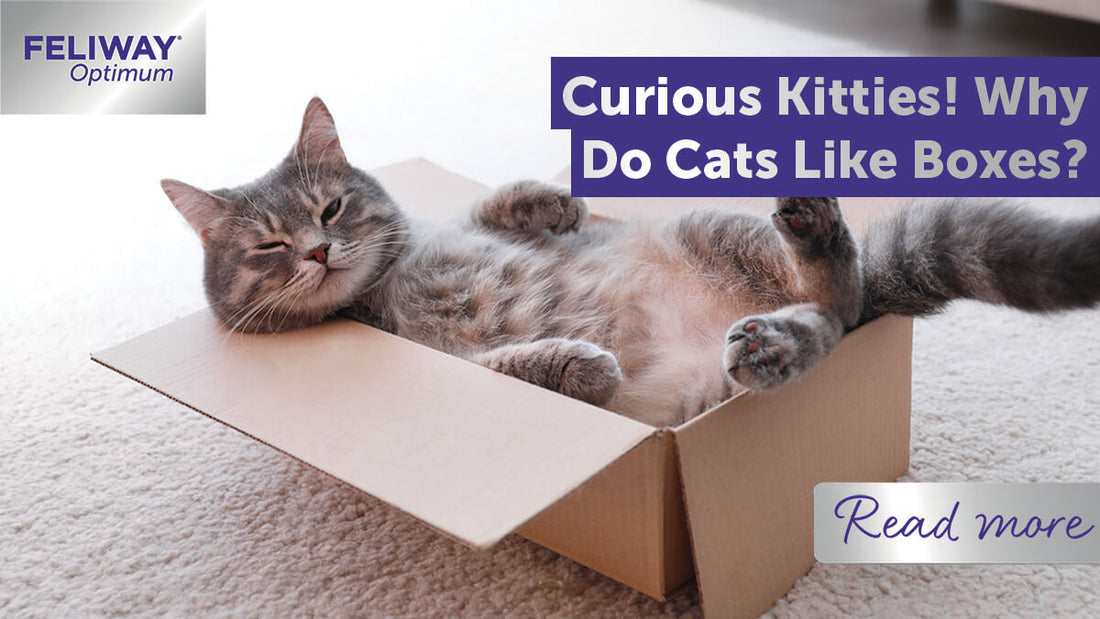 Curious Kitties! Why Do Cats Like Boxes?
Meow! Who's that knocking at the door - oh, good it's the postman, hopefully with a parcel in a box! Don't get me wrong, I don't really care what's inside!  I just love a cardboard box!
There are a few reasons why I love a cardboard box!
Boxes have always been a safe place!
I remember when my human first brought me home. I was really quite scared! I had left my feline mummy and siblings behind and now I was in this new house with lots of new humans (large and small), lots of new furniture and lots of smells I didn't recognise. So when I spotted a cardboard box in the corner, I headed straight for it and jumped right in! Safe and cosy! 
Fortunately, my humans had learned about what you need when getting a new kitten, and they had put a cosy blanket inside the cardboard box, as well as another new comfy bed on the other side of the room. After a while, I did finally come out of the box to explore my new home' and it really is very nice here, now that I'm all grown up and used to it.
I'm curious!
OK, I admit it! I'm a curious cat, so I like to investigate anything new that arrives in the house. But, I like to check out the smell first; did you know that my sense of smell is 14 times better than my human? My favourite smells are:
My favourite bed or cushion: there is nothing more comforting than the smell of my favourite snuggly area. Although FELIWAY Optimum comes as a close second!
My human: I may not always want cuddles and affection, but that doesn't mean I don't adore my human! 
My favourite food: nothing makes me hungrier than the smell of my favourite snack! 
Catnip: I know not all cats like this, but after I take a sniff of catnip I feel like playing, and it makes me really interested in my favourite mouse-shaped toys!
But I do turn my whiskers up to any citrus fruit: I do not like oranges, lemons or limes, which is good as if I ate them they could make me sick! 
So, if a box arrives that has had any of these items inside, I might give it a miss. But if I like the smell of the box, I'll jump right in and claim it as my own by rubbing against it and leaving my scent in there!
A box is somewhere to hide
Sometimes it gets a bit hectic around here. There are young children in the house and they can be very noisy, so I like to have somewhere to hide so that I can get out of their way. The parcels are normally for the kids - so while they are playing with their new toys, I am very happy to play with the box they came in. I can crawl inside and keep out of harm's way and they have no idea where I am! 
And to help me to feel really chilled out, my humans have plugged in the new FELIWAY Optimum diffuser - along with a cardboard box, I'm in kitty heaven!
 It's cosy in here!
Although a cardboard box is quite light, it is surprisingly cosy inside as it is made up of multiple layers.  We cats have higher body temperatures than humans, so we need to keep warm and I'm very good at fitting into small spaces to keep cosy. 
Did you know that my whiskers are my secret radar? I can't see short distances, so I use my whiskers to tell me what space I can squeeze into and when things are just too small - clever, eh?  They're not just there to make me look pretty (which, of course I am!) - they are essential to us cats.
I feel safe
Sometimes it can be a bit stressful around here, so to have a cardboard box handy to jump into is great. I feel better if I can't see what's going on for a while and I feel protected from the hectic world outside.  
It's a bit like what my ancestors used to do. They didn't have cardboard boxes in the wild, but they definitely used to hide in small enclosed places - like under a bush -  to hide away from their predators, but also because small covered spaces gave them a good place to hide before they pounced on their prey.
I love a cat nap!
There's nothing nicer than being able to curl up in a nice cardboard box for 40 winks!  Do you know us cats can sleep up to 15 hours each day - and when I was a kitten I needed even more!  It's our way of recharging our batteries.
When I'm awake, I'm very busy climbing trees or shelves, hiding under bushes or in my favourite hiding spots, and exploring and marking my local neighbourhood. I have the same routine every day and from my point of view, I need to check that all is well in my territory. So it's lovely to be able to jump into a cosy cardboard box for a quick cat nap.
I like a good scratch!
My humans have been very good and provided a lovely scratching post - and I do use that quite a lot, particularly when I wake up. But sometimes a cardboard box is left just where I want to scratch, and I know my human would rather I scratch a box than their furniture. In fact, my humans noticed how much I love cardboard boxes, and treated me to a cardboard scratcher for my favourite spot!