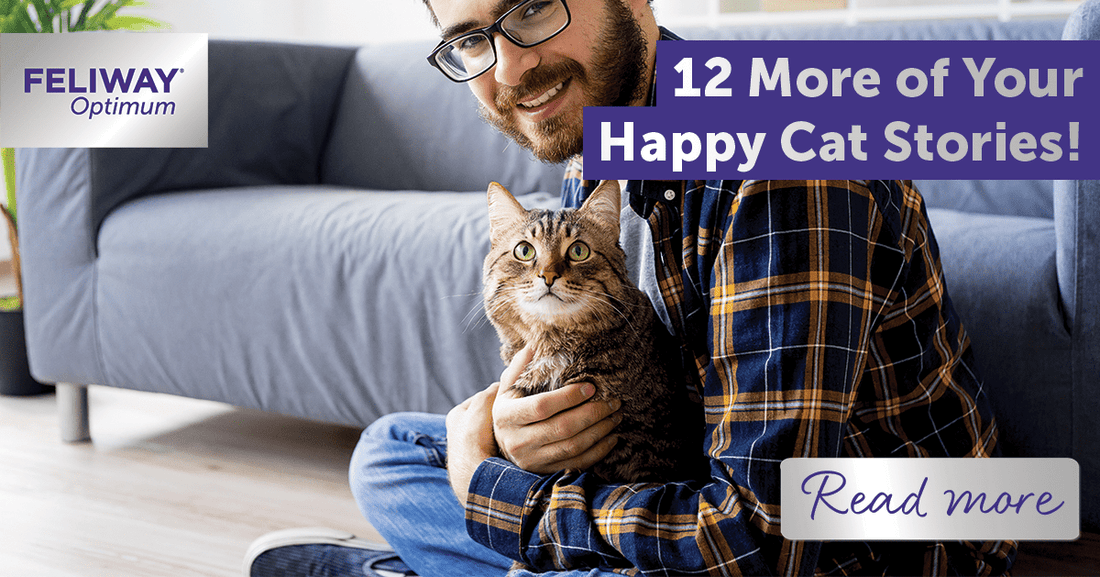 12 More of Your Happy Cat Stories!
Our feline friends never cease to amaze us! With the right support and time, they can transition from being nervous or unsure, to confident and trusting; and adapt to new homes and humans!
We would like to share more of your Happy Cat Stories from over the world, so sit back and enjoy!
1.  From stray to homelife
Alan was an unhappy feline, spending all of his time outside in all weather conditions.  He would hide under cars, jump on top of dustbins and hiss and try to bite when approached.  He was also overgrooming, which is often a sign of stress. Very gradually, he allowed his (now) owners to stroke him and gain his confidence, so much so he followed them home. He was in a very poor condition, with thin fur, bald patches and an infected abscess. With help from the local PDSA charity, Alan began to improve although he sometimes ran off at sudden noises. After a lot of love and patience, Alan now purrs, plays, meows to talk to his humans, curls up on the settee and is a firm part of the family.  
2.  Patience wins out!
A volunteer in a cat's protection home, fell in love with two tiny terrors' in October 2018 who had been dumped in a cardboard box. She took them home, and although they were very loving to each other, Caoimhe (the grey) hid away for 3 days after arrival. It took two and a half years, and a lot of patience, for them to trust humans.  Their owners turned to FELIWAY Classic to help them settle originally and used FELIWAY Friends when they became teenagers and started to show signs of conflict!  But with support from their humans to gradually get used to one another, they have grown into beautiful loving cats, with Saoirse being the nosey one - jumping into the shopping bag looking for treats - and Caoimhe being the one who gives the most head bobs and rubs.  'They are sooo beautiful' says their human. Patience wins out!
3.  Villain Kitty!
According to her human, Zouzou is a very naughty kitten and gets up to all sorts of tricks! She steals lollipops from a little girl; she destroys flowers; and she hides cigarettes belonging to a friend! Zouzou has a twin sister, named Kikie and to differentiate between the two kittens, Kikie was given a collar to wear. However, after some confusion it was only the vet who could tell which kitten was Zouzou and which one was Kikie - by checking the microchip! Zouzou had taken the collar so that her owner couldn't tell them apart! 'She is a very independent French cat and full of mischief!'
4.  Ninja - no spring chicken!
As a more senior kitty, Ninja was no 'spring chicken' and had lived a life in multiple cities. Her owners adopted her as nobody wanted an "old, indoor only" cat. She spent the first 36 hours of her life in her new home in a cupboard refusing to come out; her owners were beginning to think they'd made an awful mistake. Fast forward 3 years, she is the dearest, sweetest (fussiest!) little old lady! At almost 17 she's doing extremely well and very welcoming when her owner arrives home from work. She can still be absolutely terrified (even of flies!) but that's where FELIWAY Optimum steps in to help her feel serene. 'She is my best little mate, and I'm so grateful she found us. I simply can't imagine how I did life before her!'
5.  Baghera, the Traveller
Baghera was born in August 2011 in Italy, the only male of the litter. He has been a constant companion since his owner started travelling for work in 2015; Beghera has adapted well to all the adventures and misfortunes of changing homes, cities and regions. His owner sees all their life's adventures and travels in his eyes. 'It fills my life and my heart, 10 years of love'
6.  It's 'illegal' to move a sleeping cat!
Lola and Louie are 5 year old rescue cats who came into their owner's life during lockdown. Lola, the black shadow and Louie, the snuggle buddy. 'What exciting days they have!' says their owner. 'Lola has a secret place where she can watch the birds and a favourite tree to snooze under. Louie loves to watch from the shed roof and explores further afield over the fence.' They love checking what's happening outside the window and somehow, they always seem to claim the best seat in the house. Of course it's illegal to move a sleeping cat! 'They brighten up every day with their funny little ways and all the love and affection they give.'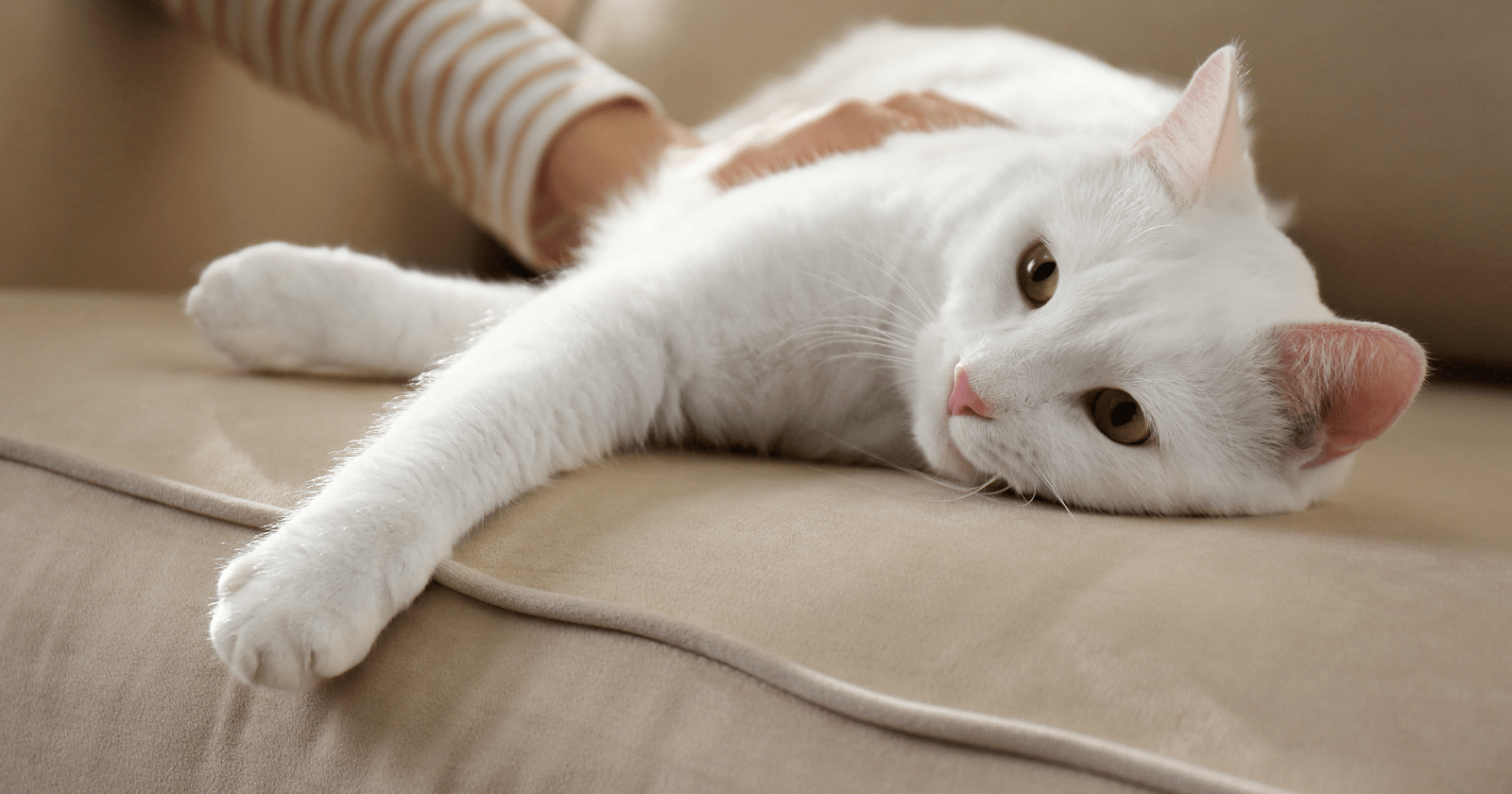 7.  A special being
Claudio was taken to the cattery near his owner's shop. '[I didn't know] his story - he was a special being,' says his owner, 'but he didn't want to stay in the cattery.' Claudio loved dogs and would stand outside the shop, likely attracted to the owner's two Molossers who themselves had a past of neglect and abuse. In this, they found their bond, their owner says. They managed to coexist peacefully together and it seems life wouldn't have been the same without them! 'To them I owe my business, my experience, my passion. Everyone has his helpers, I had my elves: Bartolo, Nala and Claudio. Two dogs and a cat. They are always in my heart.'
8.  Rudi the Lunatic!
This story from Poland tells of a rescued kitten that was brought home. Not everyone was delighted with the new family member, but they grew to love him very much. Although Rudi, as he was called, did have some quiet time, his family had to keep a close eye on him. When Rudi needed to be kept active, his owner played with him or took him for a walk; this is because he once jumped out of a window! Fortunately, after a visit to the vet, it turned out that Rudi was ok, and after a few weeks, he returned to full strength. Since then, his humans have put screens on the windows so that this story does not repeat itself.
9.  From a Polish cat's point of view
Gogoja, a 10-year-old cat from Poland, tells how his human rescued him from a life of fear and showed him what true happiness looks like. 'When I was little, I lived in a big yard with a huge, terrible dog; I was afraid of him, he even hurt my stomach once.'
His soon-to-be owner began work at the carpentry shop that Gogoja lived in and would bring him regular treats. After doing this for some time, she spoke with the owner of the shop about giving Gogoja a better life. 'After work one day, she took me in her arms and I was in for another treat. It was the most beautiful day of my life and since then, I have never been without anything!'
Gogoja now has all the treats he could want, a big garden to play in, friends, toys and even a scratching post! 'I will be grateful to her for the rest of my life; I now know what a real home looks like'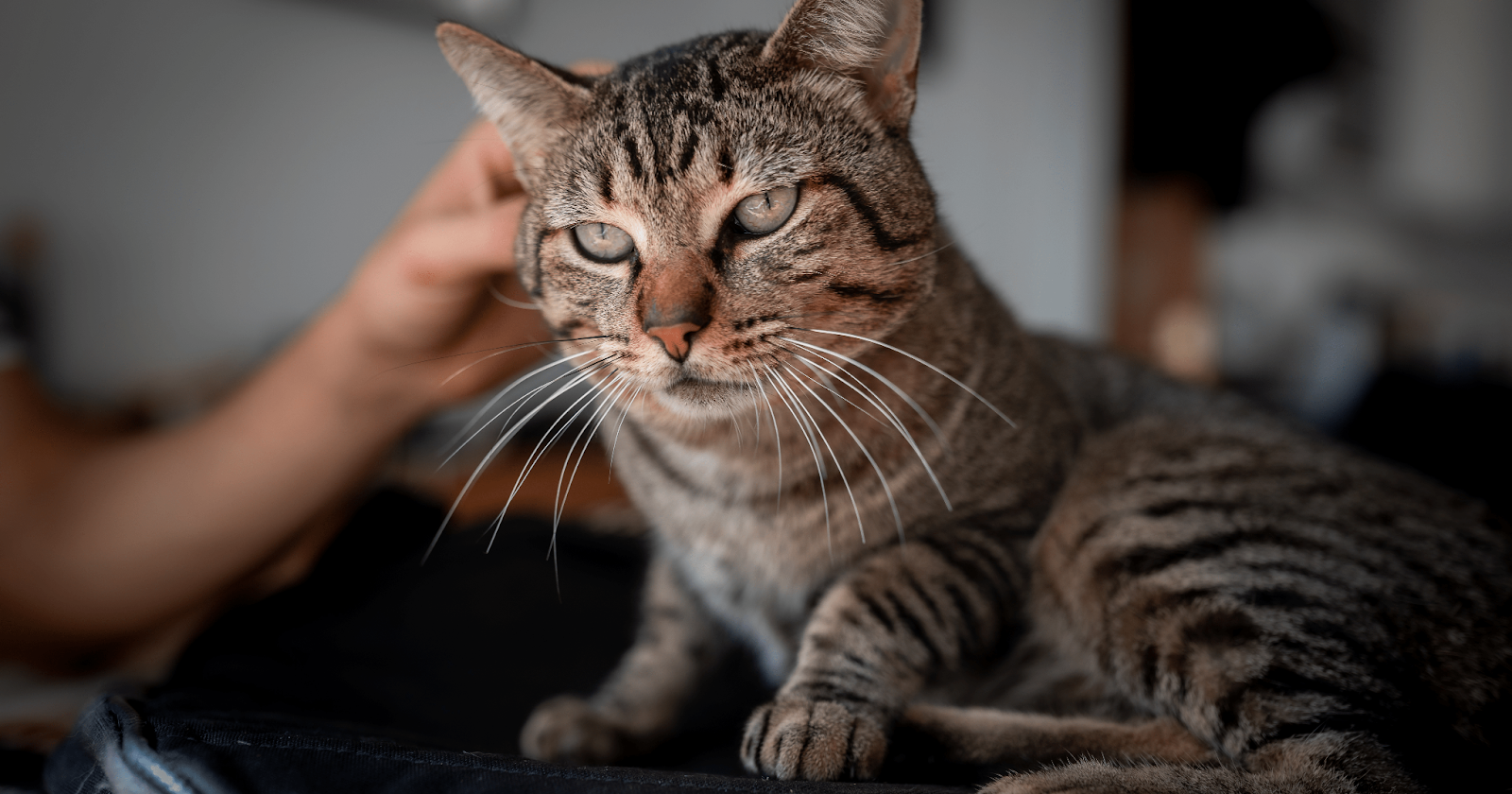 10.  The most important thing is to find your companion
Another lovely story from Zalew, Poland, tells of a colourful furball named Masha. It wasn't an easy start for Masha's new owner; worms, peritonitis and other complications plagued the poor kitty! But her owner refused to give up and says it's the best decision they ever made, with Masha being a particularly friendly kitten. 'Masha greets me every morning, and when I come home from work, she immediately lies on her back, white belly up and then there is an hour of cuddling.' Only 8 months in, this perfect pair's adventures have only just begun!
11.  FELIWAY to the rescue!
Millie, now 8 years old, was rescued in Italy from a hessian bag thrown into a lake along with her mother and siblings. Unfortunately the others did not survive. Millie was about 4 weeks old, eyes not even open, when her new human owner took her in and bottle-fed her until she was able to eat for herself. Unfortunately, the 7 year old Spanish rescue cat McVitie did not take to Millie at all and spent 3 years hissing & spitting at her. It was heartbreaking to see her try so hard to cuddle up to him only for him to completely dismiss her with a swipe of a paw and a swearing hiss.
Their owners decided to try FELIWAY and within 2 weeks Millie and McVitie were the best of friends and are now inseparable. When the FELIWAY ran out, they didn't replace it at first and McVitie reverted to old habits! They soon reinstated FELIWAY - now they use it all the time and just love watching them play and scrap together, McVitie is so protective of Millie and even shares his food with her! Millie and McVitie have also taken to the road with their owners in their touring caravan and enjoy exploring new places together. 'Thanks to FELIWAY Friends forever'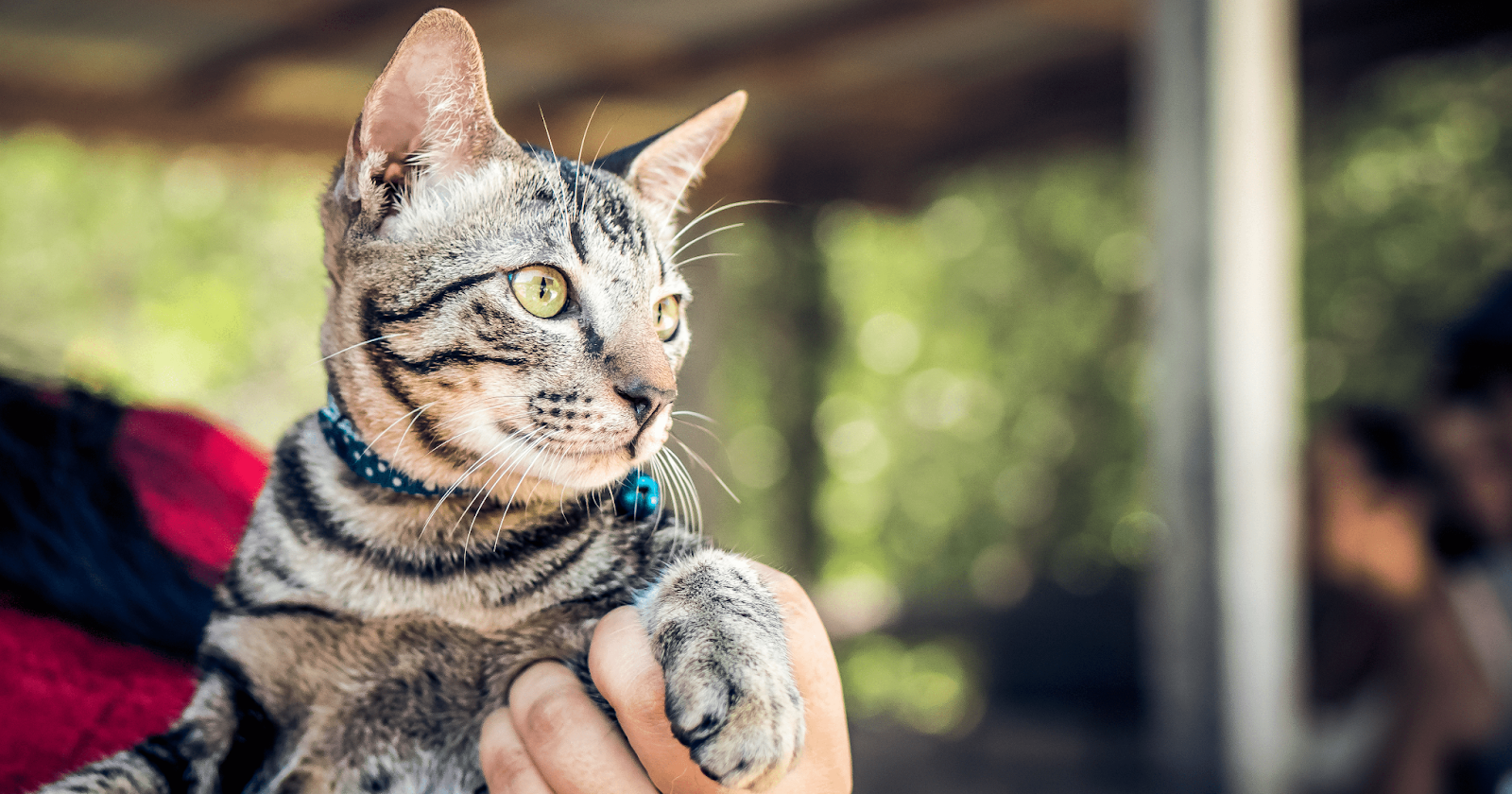 12.  A message from Argentina
We finish this round up of international Happy Cat Stories with one from Argentina!
'Hello friends, I am a kitten born in Argentina - my human parents adopted me and I was born in 2017.' This friendly feline enjoys playing in boxes, going out with its human parents, and has a love for chicken and beef pouches! 'I'm a happy kitten and I receive a lot of love from the people I meet every day'
Purrr' Thank you to everyone who shared their story with us, we love hearing your kitty tales!