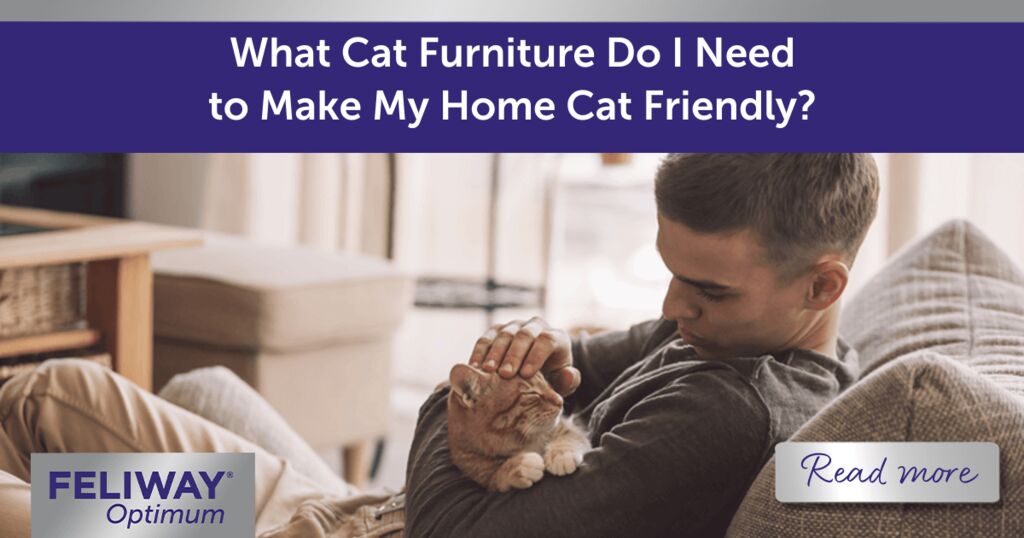 What Cat Furniture Do I Need to Make My Home Cat Friendly?
Territory is very important to cats – but your home environment is probably just as important to you too! With today's trends for open plan rooms and minimalist décor, it may seem more of a challenge to furnish your ideal environment, while also making sure that your cat's climbing and hiding instincts are catered for. But that doesn't need to be the case!
With careful planning, you can give your home some modern style, but with a feline flair to make it cat-friendly.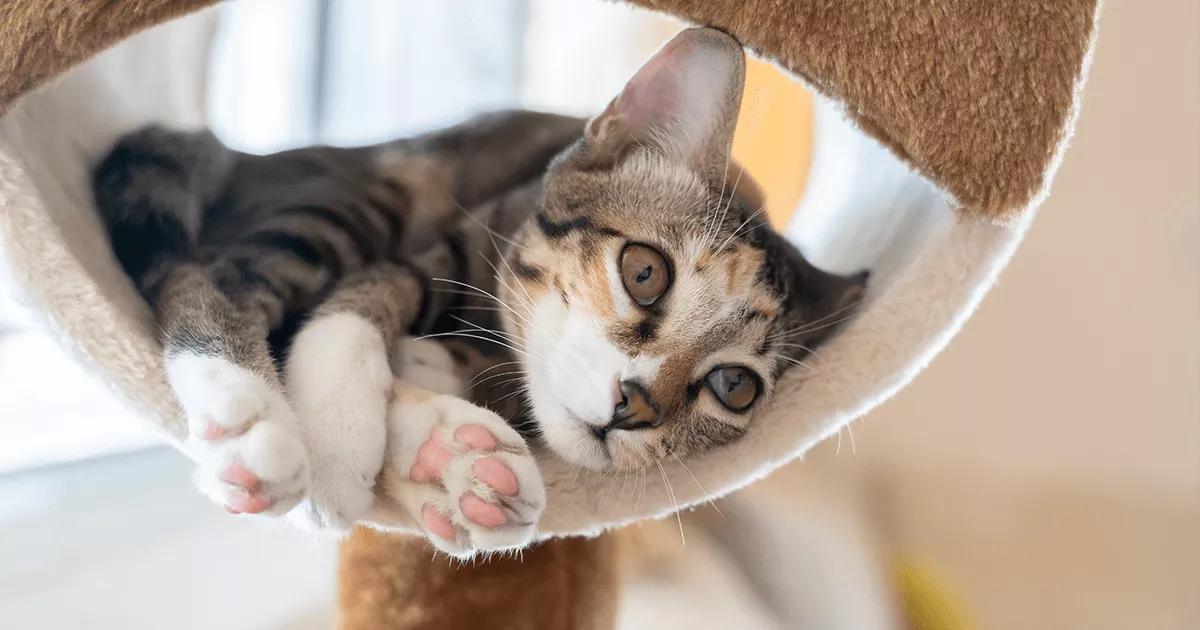 Things to remember when making your home cat friendly
Home environment is very influential on cat well-being. Keep watch for

signs of anxiety

and take steps to help your cats feel relaxed. Using

FELIWAY

Optimum

can help your feline housemates discover enhanced serenity and feel safe and secure in your home environment.

Cats like to have choice, so plan your cat furniture with this in mind. Make sure they have high spots to climb up to and cosy places for their catnaps. They also like to hide, play, scratch and explore.

Remember, cats don't like their food or drink near their litter tray, so putting these in separate, quiet locations is essential.

Make sure your cats are safe – be aware of appliances, plants, or the risk of being shut in places they can't escape from.

Cat furniture ideas to keep your home feeling stylish
It is important to remember that you do not need to spend a lot of money. Making your own cat furniture or refurbishing existing items need not break the bank.  
Paint your cat furniture to match the colour scheme in the room – just make sure the paint is dry before your cat tries it out!

Similarly, make covers for their bed that match the covers on your sofa.

Integrate a

hammock into the base of your coffee table

so that your cat can curl up underneath, while you're having a quiet coffee!

Hang modern bookshelves in a stepping stone pattern on a wall so that your cat can climb up them or use them as a cat walkway.

Take some

cute photos

of your cat and mount them in unbreakable frames to decorate your shelves. Otherwise, (cat)cidents can happen!

Place some

cat-friendly plants

on the shelves and around your room. Remember, plants around the home are also good for our own wellbeing!

If their food stations are in the same room, place these discreetly behind a chair if you don't want to see them. If you don't want to have cat food in your living area, you can also get automated cat food dispensers that can be timed according to your cat's feeding schedule.

Similarly, their litter tray can be hidden discreetly behind a chair or sofa, but remember, this should not be situated close to their food.

Running water can be soothing and, as cats like to drink from running water, why not treat your cat to a water fountain.

Scratching posts are essential to help cats stretch out after a catnap, keep their claws healthy and to protect your furniture. A well-placed scratching post can also be adorned with a cat-friendly plant – but make sure the plant is secured and cannot be knocked over by your exuberant cat! Some companies have developed floor to ceiling scratchers which allow for climbing to the highest cubby holes in the scratching cylinder.

A cat condo or cat tower – these are shelving units with platforms or beds on different levels that combine all of the above, and could have a more 'furniture' feel.

Don't forget that your cat carrier is a perfect piece of furniture that all cat owning homes should have. This doesn't just need to be used for transporting your cat to the vet; it can also be used as a bed, a hiding place or, if you have one that opens at the top and the side, it can be situated close to a shelf so that your cat can gain access from all angles.
Consider the space you have available, and the number of cats you'll be sharing your home with – remember that every cat likes access to their own resources, so plan your space to cover all their needs.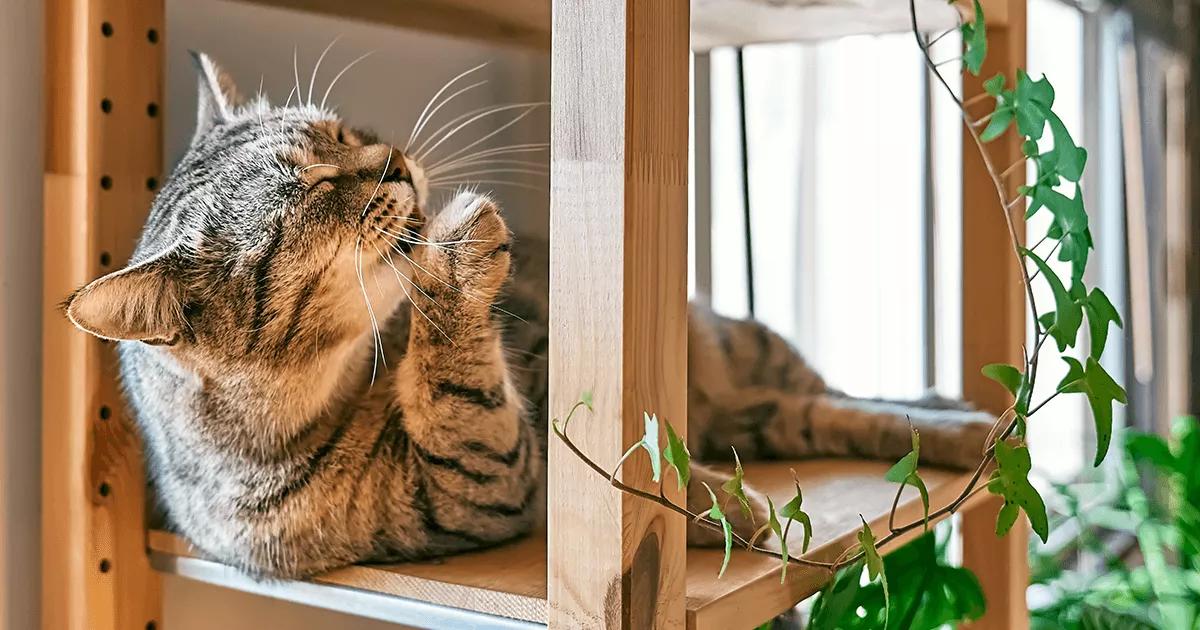 It's also worth bearing in mind how old your cat is – kittens love to explore, hide and pounce and climb – but if you have a senior cat, their requirements may be less strenuous and you may need more low-level ramps or smaller steps for easier access.
We'd love to see your kitty's favourite cat furniture! Send in your pictures of homemade cat towers, favourite cosy spots or stylish cat-friendly decor.