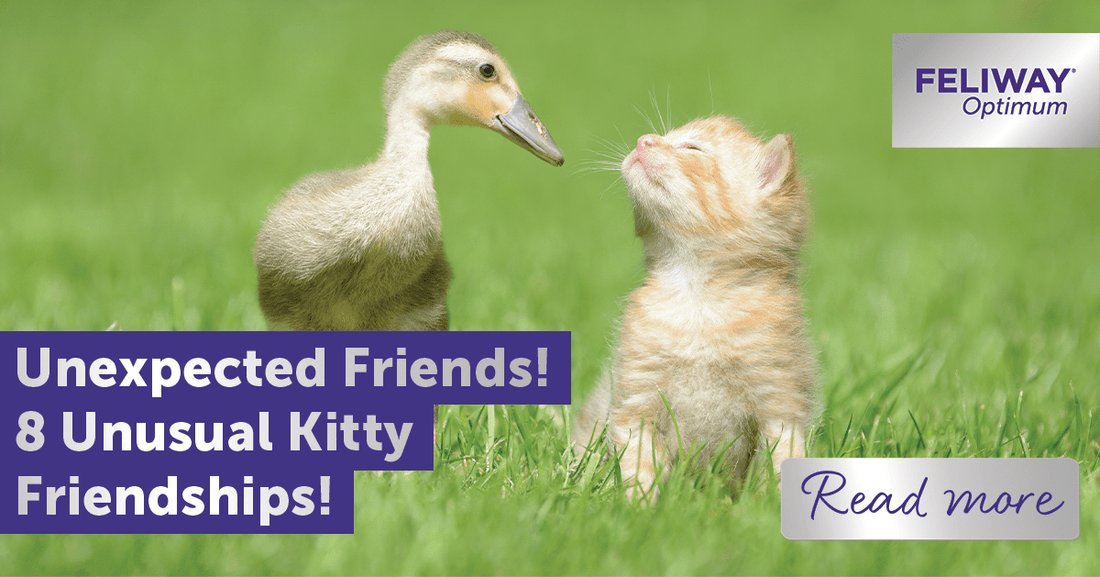 Unexpected Friends! 8 Unusual Kitty Friendships!
Some people may think that cats are aloof or independent. But, as cat lovers, we know that they can make the best of friends!
Our kitties may be selective about who they choose to befriend, but whether you are human or a different animal species, once you have developed a bond with a cat, you'll be friends for life, as these stories prove!
Take a look at these amazing stories about cats and their unexpected friends!
8 Unusual Kitty friendships
1. Leonardo diCatzio and Mortiz the pig
This cat's name has got to give him first place in our list of Unexpected Friends!
Enter Leonardo diCatzio! This amazing 2 year old Ragdoll developed a very close relationship with Moritz the pig - so much so, they cuddled up together for a nap and Leonardo loves to stroke his piggy friend and purr!
2. Cat has a gentle awakening... by a bird!
Cats and birds don't get along, right? Wrong! To prove the point, take a look at this little bird kissing Chama the American Shorthair to wake him up, proving that cats really are softies!
3. Mother cat feeds
ducks!
This is a warm, heartfelt story of how a mother's natural instincts take over when some newly born ducklings found a mother cat who had just given birth to three kittens. In other circumstances, a cat would normally have seen the ducklings as prey, but here, the mother cat went on to nurture the ducks until they grew bigger than her, and followed her around the farmyard!
4. Goats adopt playful kitten
Take a look at these adorable kittens! This trio were adopted by Community Cat Advocates in Maine. Here they are enjoying their new barn home, exploring and meeting all the other animals, including goats and chickens. "It is amazing how brave they are for little furballs!" These lucky kittens now get to enjoy fresh goat milk for breakfast each morning as they get stronger and settle in! 
This truly is an adorable friendship!
5. The adventures of Mango and Ponzu
Mango the parrot and Ponzu the cat may seem like an odd couple but their bond is strong! From cuddling up together to enjoying walks and boat rides, these two friends are inseparable. "They get along and they don't fight" says their owner. "Each day they surprise me with something different." Mango and Ponzu certainly bring plenty of joy to their owner, and their story is enough to put a smile on anyone's face!
6. Wendy the cat fills a void in George's heart
George, a 135 Pound Mastiff was feeling blue as he had just lost his best friend, Debbie the pig. But when his humans found Wendy abandoned in the park and introduced her to George, he found his spark again. When Wendy first came into George's life, she was the size of his paw but now "they bring out the love in each other" and spend most of their time playing or sleeping together.  
7. The Inseparable duo
Meet Linda, the lynx and Dusja, the cat. Their story started when Dusja the homeless Calico cat found its way into the Leningrad Zoo in St. Petersburg and, on the hunt for food, found its way into the lynx's enclosure. Not a very good idea, as the Lynx is considered to be one of the most dangerous carnivores in Europe, but Linda and Dusja proved that theory wrong.  They now share their lives together in the zoo, playing, eating and sleeping together.
8. You've got a Friend in Me!
We round up our stories of unusual kitty friendships, with this clip of Loki the cat, and Harley the hedgehog getting to know each other. Watching these two different animal species get along, albeit tentatively, will bring a smile to your face - and perhaps you'll even burst into song! Enjoy!