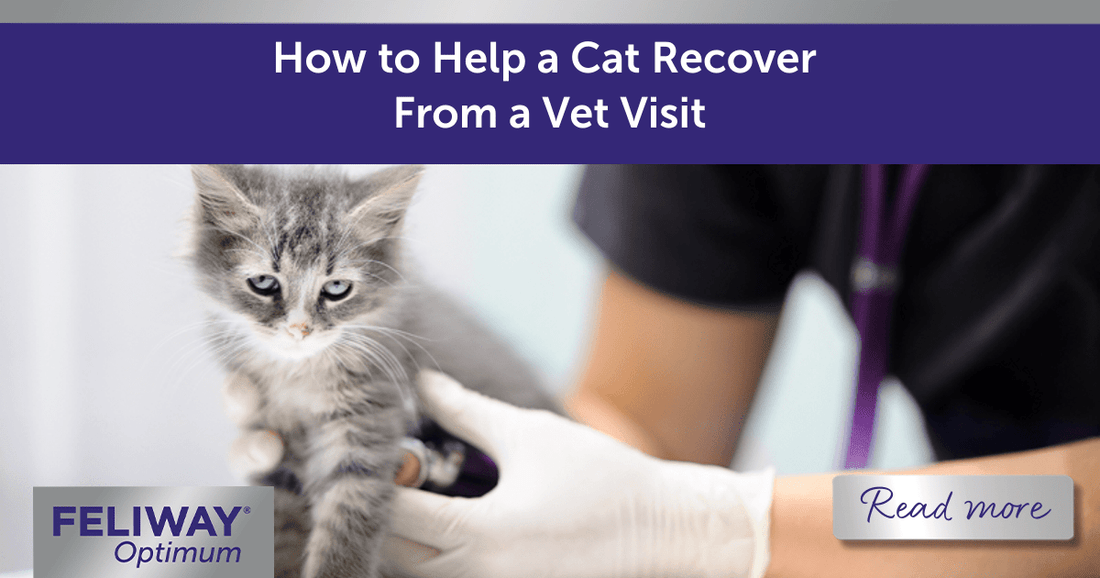 How to Help A Cat Recover From a Vet Visit
How do you feel when you have a visit to the doctor, or the dentist? Healthcare trips, although necessary, can leave us humans feeling nervous and unsure – and the same is true for your cat when they visit the vet! 
And while coming home to a familiar space afterwards be a relief for your cat, you should recognise that your cat may still be feeling stressed from the experience, and may need help to feel calm.
How to help a cat recover from a vet visit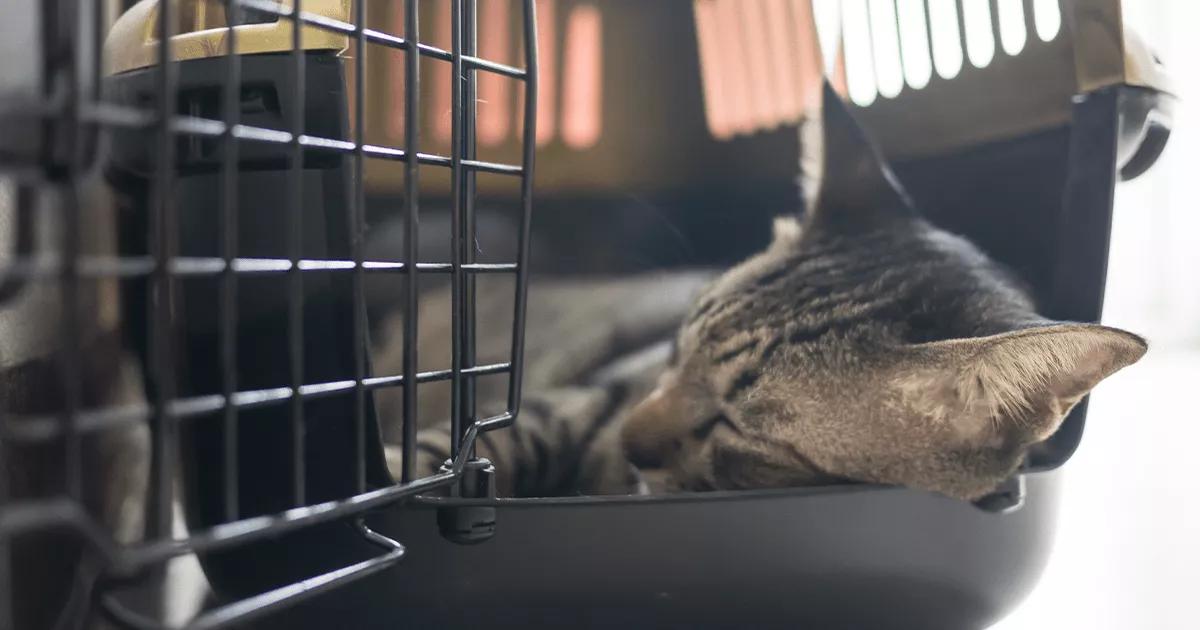 Help them prepare
Helping your cat adjust to being in their carrier can prevent a negative association with leaving the comfort of their home. Cats like routine, and anything out of their ordinary daily life can unsettle them and make them feel stressed.
Make sure your kitty has a positive association with their cat carrier from an early age, check that the carrier still suits your cat, that they have plenty of room to move, and there is easy access for them to be lifted out when necessary.
Having the cat carrier visible on a daily basis and making it a part of your pet's 'furniture' will make it more familiar and will reassure them when they next have to travel to the vet.
Similarly, travelling in a car is not a normal occurrence for a cat, so it's important to get them familiar with being inside the car before you even start to move. Using FELIWAY Classic Spray can provide reassurance during their journey; before your cat enters the car, spray 8-10 pumps of FELIWAY Classic inside. And spray into each corner of the carrier 15 minutes before your cat enters it. Remember to never spray your cat. 
Did you know that there are accredited cat-friendly clinics that have measures in place to reduce the impact of stressors on your cat during their visit? Staff at these clinics have also been trained in cat friendly handling – you can check when you book, or on their website, about the cat friendly measures they have in place. 
Always try to keep yourself calm, too, as this can impact your cat if they sense that you are worried or stressed.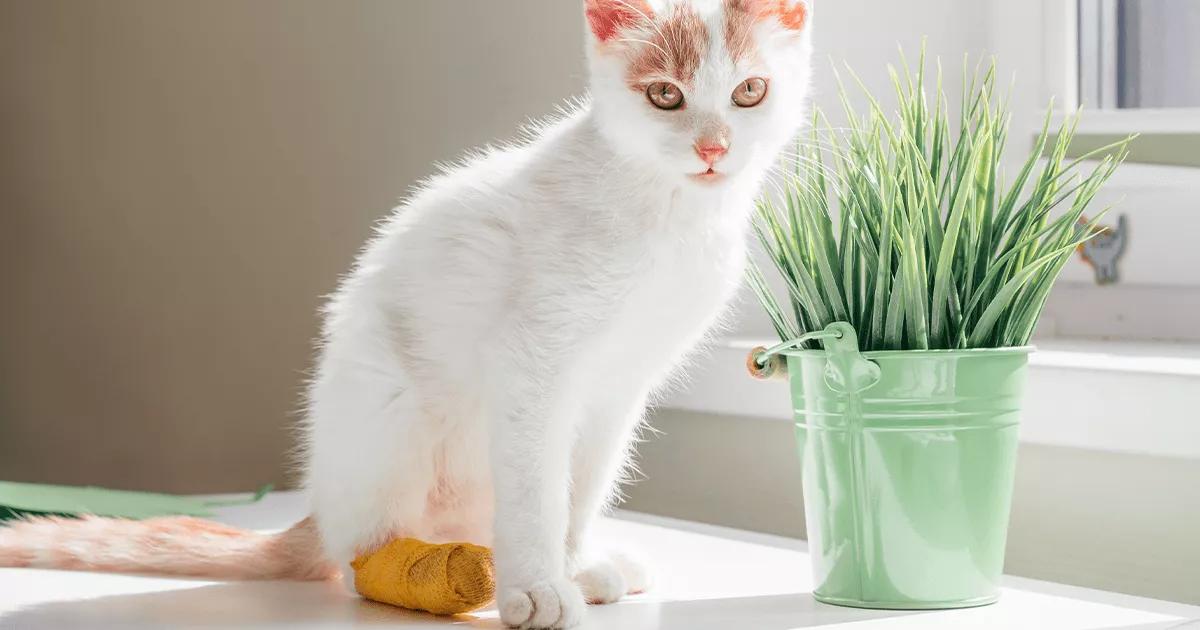 Understand their feelings
When you bring your cat home from the vet, they may be feeling stressed from the whole experience. Apart from the journey, they may have had treatment and be wearing bandages or a medical collar/vest which will be strange for them. 
They will also bring home the smells of the clinic which could have negative association - other pets may notice this too and not 'recognise' their housemate at first.
To help your cat settle back into their home, making sure all of their resources are accessible, they have a comfy bed set up in a quiet part of the house, and that they are left alone (but always keep a watchful eye) until they are ready to venture out themselves.
Recognise the signs of cat stress
Look out for signs of stress:
Your cat may scratch objects they don't usually scratch, like a carpet. Make sure you have plenty of scratching posts/trays to help redirect them away from your furniture/carpet. If you're not sure which scratcher your cat will prefer, a horizontal or vertical cardboard scratcher can also be a good support to encourage your cat to scratch elsewhere (such as in a different room) - and be a good way to test out their preferences! 
They may start urinating outside the litter box. Check you have enough resources – especially if you have a multi-cat household – thoroughly clean the affected area, and regularly use FELIWAY

Classic

Spray on the spot to deter your cat from repeating the action.

They may act differently towards humans or other pets in the home. Redirected aggression normally presents itself if your cat has been feeling under threat and they act to protect themselves against anyone or anything nearby.

If you have a multi-cat household, don't forget that your other cat(s) may find the returning cat a little unfamiliar. They will bring home different smells and they may be less tolerant of interaction  – it's important to keep them separate as much as possible, and ensure there are enough resources to go round, until your treated cat returns to its normal self.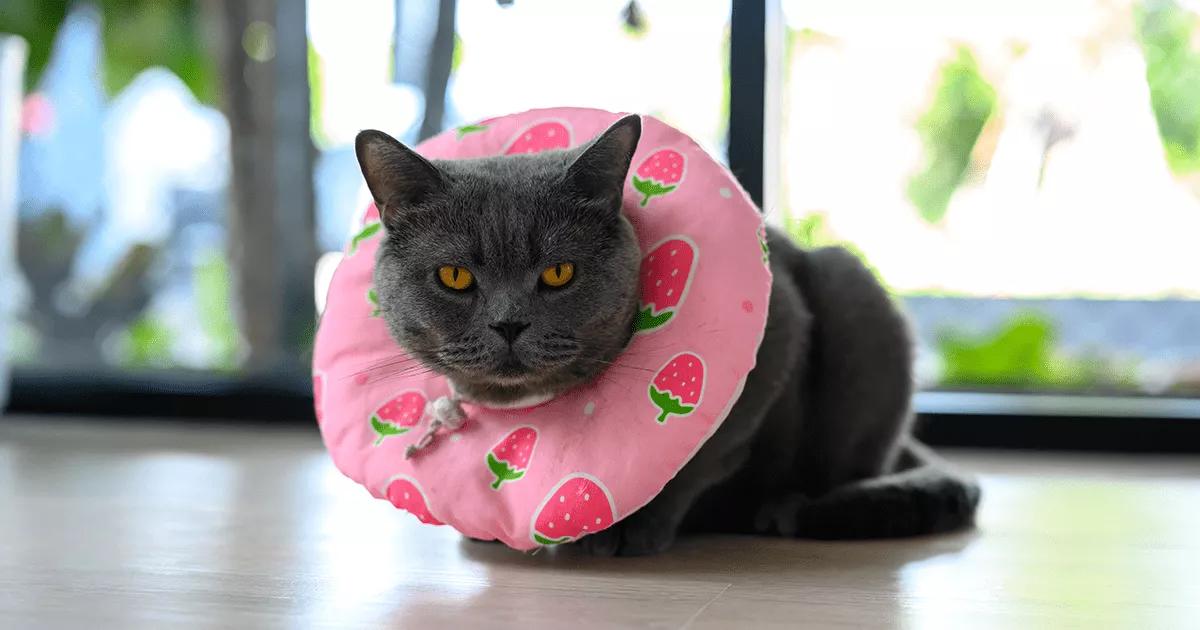 Tips to help
Keep the room warm and calm

. Once home, take your cat in their carrier to a quiet room, away from other pets. Make sure they have all their resources in this room, their favourite comfy bed (with their familiar scent) and open the carrier door. Having this room warm will help them, especially if they have had an anaesthetic at the vet clinic. Let them come out in their own time and give them some quiet time. 

Follow their lead

for any interaction, and use a soft voice to talk to them whenever you are with them. Avoid overwhelming them with attention from other people in the home until they are ready, and ask others not to try and pick your cat up – particularly if they have had an operation.

Use FELIWAY Help!

Plug in FELIWAY

Help!

in the room (ideally one or two days before your cat comes home) to create a reassuring environment for them. FELIWAY

Help!

lasts for 7 days and helps to support cats during short-term stressful events, and is useful to help settle a cat back home after a visit to the vets. If they have been away for a few days and are the only cat in the home, they will also not have been there to remark their home with their facial pheromone; FELIWAY

Help!

helps by providing this missing message.

Keep other pets away.

As mentioned above, other pets may not recognise the scent of your cat, so keep them separate and reintroduce them slowly.  Keep your cat in this separate space until they are settled again – don't rush to reintroduce your cats, but gradually do this by swapping scents. This can be simply done by wiping a towel/cloth around a cat's cheek (like stroking them) and then placing that material in the other cat's space so they can investigate it in their own time. If this doesn't seem to cause any issues with either cat, give them controlled opportunities to see each other at a distance before moving to a physical meet if they seem comfortable.

Use FELIWAY Optimum

if your cats are not comfortable in each other's company to encourage a more harmonious relationship. Plug into the areas where the cats spend most of their time.

Keep time for each cat

– spend time with all of your cats, as you would normally.

Make sure you understand any medication

before leaving the clinic. If you need to give your cat medication, make sure to ask for tips for ways to do this in a cat friendly manner to reduce stress for your cat. Keep calm and use a quiet, separate room away from other cats, so your cat has a chance to relax after receiving the medication before interacting with other furry friends in your home.

Keep them indoors

until they are well enough to go outside again. Make sure there are no 'escape' routes from their safe room. If your cat has outdoor access, they may try to go outside as normal, but it is best to keep them indoors until they are back to normal and any wounds are healed.