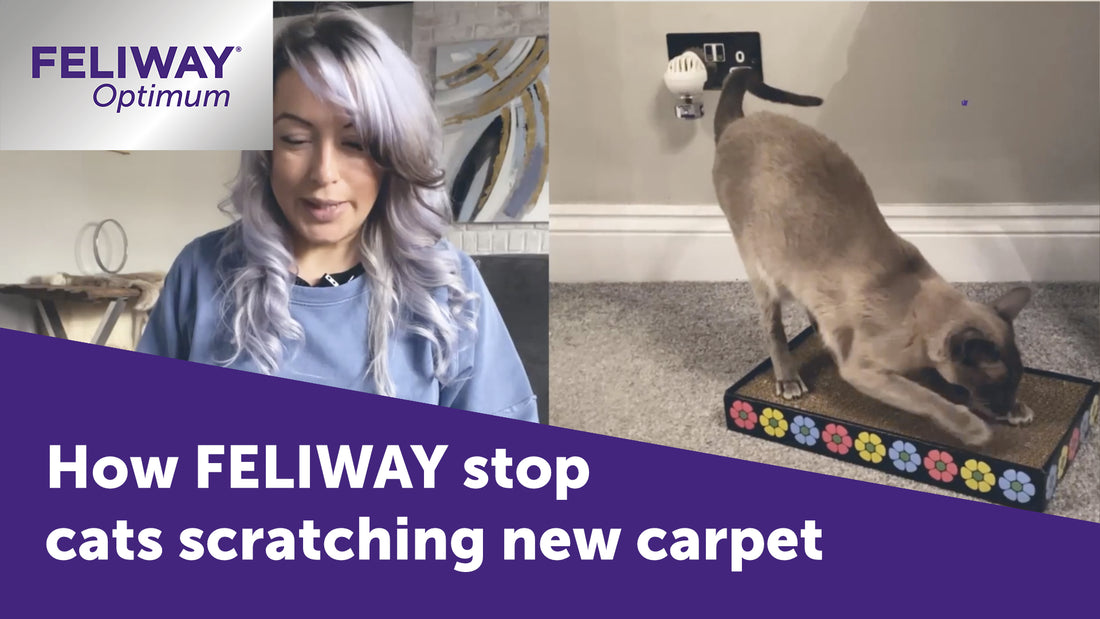 FELIWAY Optimum Video testimonials from the community
3 FELIWAY Community members make FELIWAY Optimum
 testimonials at home
Back in March 2021 we asked the FELIWAY Community if anyone would like to share their experience with FELIWAY Optimum. We had a fabulous response and it was very hard to select the final 3 community members and their feline friends who would feature in their own FELIWAY Optimum testimonial videos.
The 3 stories come from the UK and France, so due to COVID restrictions it wasn't possible for a production team to visit them. Instead, we sent each family a camera and lights to make a video of themselves.
We hope you agree, but we think they all did a brilliant job! The 3 videos tell each story of how FELIWAY Optimum has helped restore feline serenity in each of the households.
Have you seen them all yet? If not, here they are for you to enjoy!
Gina's Sunny and Star
Gina is a long term fan of FELIWAY. Changes in the home upset Sunny and Star and they would scratch the stairs carpet. After FELIWAY Optimum, home changes are not a problem anymore. See their story:
Aurore, Fabien and Risotto
The arrival of Aurore's and Fabien's  new baby upset Risotto, who became lethargic and unhappy. After FELIWAY Optimum he is back to his normal self, playing again and even getting on well with the new baby. They are back to being a happy family. See their story:
Beth, Rich, Khaleesi and Snow Belle
Introducing a new cat into the household is always a challenge and Beth was worried how Khalessi would accept Snow Belle. Would Khalessi's litter tray issue reappear? FELIWAY Optimum helped Snow Belle's introduction to the family and they are almost inseparable these days.....and the litter tray issue is non-existent! See their story:
Thanks to FELIWAY Community
These great videos and the response from the FELIWAY community was fantastic. We want to thank everyone who shared their experiences. 
We love to hear from you! Share your experience with FELIWAY Optimum too: