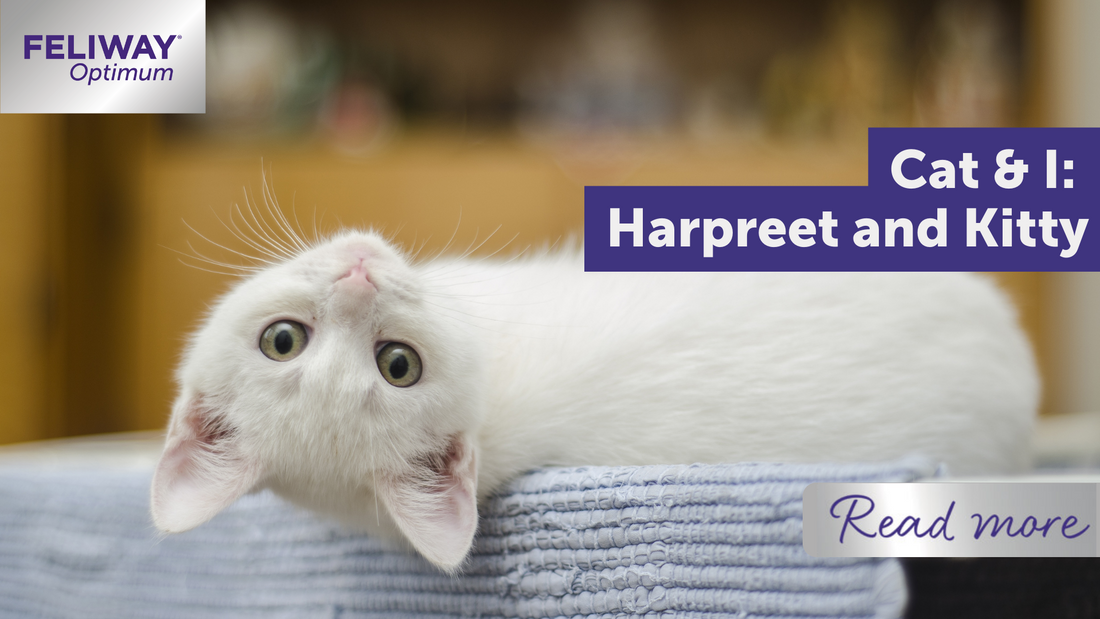 Cat & I: Harpreet and Kitty
Our Cat & I series explores the incredible relationship between owner and cat' the joys and benefits of owning a cat in this fast-paced world.

This month's Happy Together duo are Harpreet & Kitty. Harpreet lives in Uxbridge with Kitty, her 3 year old Domestic Short Hair.

We sat down with Harpreet to discuss how Kitty joined her family, his mischievous habits and what makes their relationship so special.
How did you find Kitty?
I was anxiously counting down the days to my thirteenth birthday when my sister asked me what I wanted most in the world. Immediately my mind jumped to a furry little companion who would be with me for all my birthdays to come. The next few days consisted of research and eventually we found a woman who had a litter of adorable kittens that were in need of homes, so that day we drove over and I fell in love with Kitty straight away. My parents were furious that we decided to bring him home without telling them, but everyone fell in love with him soon enough.
What was he like as a kitten? How did you go about training and socialising him?
The day we brought him home, it was clear to see a lot of training was needed. He kept us up most of the night by running around all over the house and trying to get us to play with him at 3am. Eventually we managed to get him to be less hyper during the night by having scheduled play times and rest times. Kitty is warm and lovable to everyone in the house, however gets a little shy around unfamiliar people. He just needs a bit of time to get used to being around them' he'll allow cuddles eventually.
What is Kitty's behaviour like at home?
Kitty loves everyone in the house but definitely has his favourites and I am so happy to be one of them! My sisters and I always argue over who he loves the most and always try to be the one he chooses to come and cuddle (and get jealous as it's usually me). He's also very playful and loves chasing string and is our hero when it comes to chasing spiders. He does like his own space but knows we are here to shower him with affection when he wants it. Overall, he's very well behaved and never fails to keep everyone smiling.
What's the best thing about Kitty? How does he make you smile?
My favourite thing is coming home after a long day, getting into a blanket, snuggling up with Kitty, eating ice cream and watching a cute movie. He's always there for a hug and is always getting up to mischief. The best thing about Kitty is how he always keeps me smiling; whether we're playing, cosying up on the sofa, or even if he's stealing my food.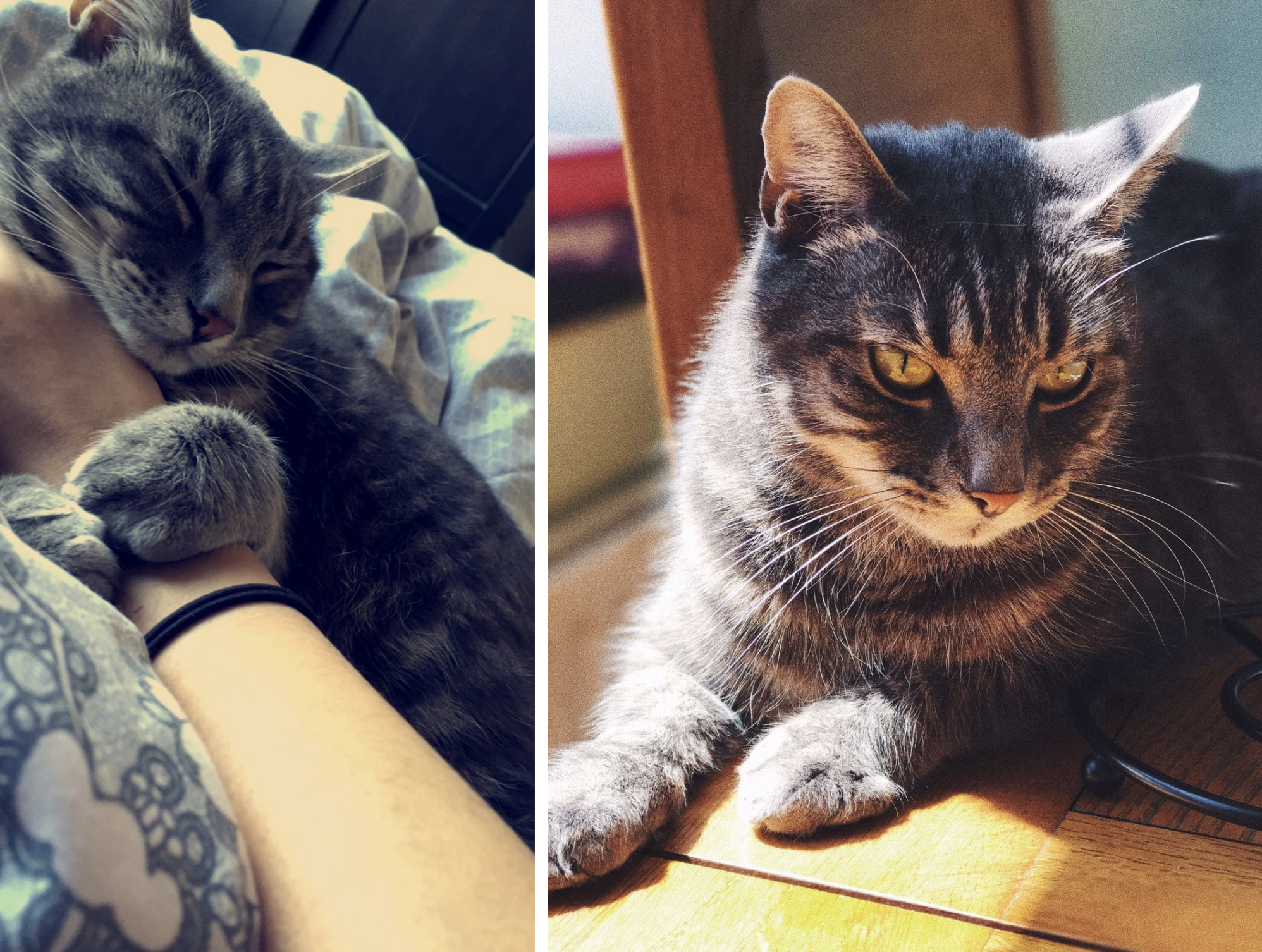 What is Kitty's favourite thing to do?
Kitty loves to run around in the garden. He doesn't get along very well with the cat who lives next door so he doesn't spend too much time outside, but when he does you can tell he's enjoying himself. He's definitely an explorer and is always wanting to bask in the sun and eat the grass (strange, I know).
What is Kitty's personality like?
At first he may seem shy, but once he gets to know you, he's extremely kind and loveable. He loves getting stroked and is always cuddling with people. He's definitely a curious cat as he loves going on little adventures in the garden and exploring every inch of the house.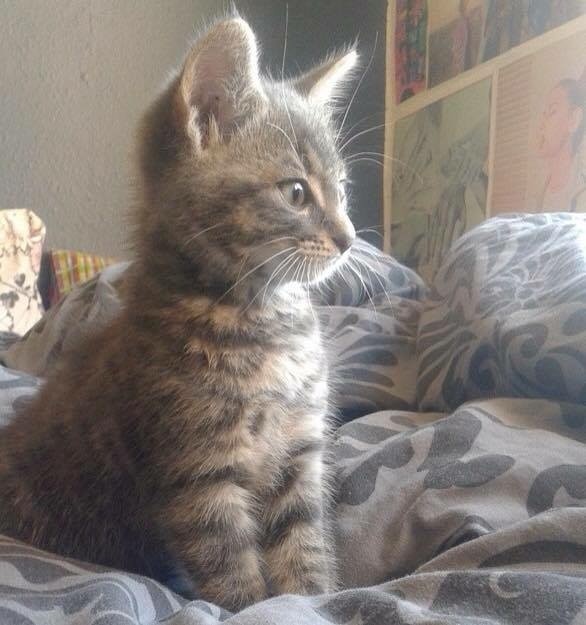 What makes your relationship with Kitty so special?
Because he came into my life at just six weeks old, he's grown up around me and that has built a huge level of trust between us. He's able to come and sit with me whenever he wants and he knows I'm always there if he's feeling mischievous and wants to play or explore. He's more than just a pet and he will always receive so much love from me.