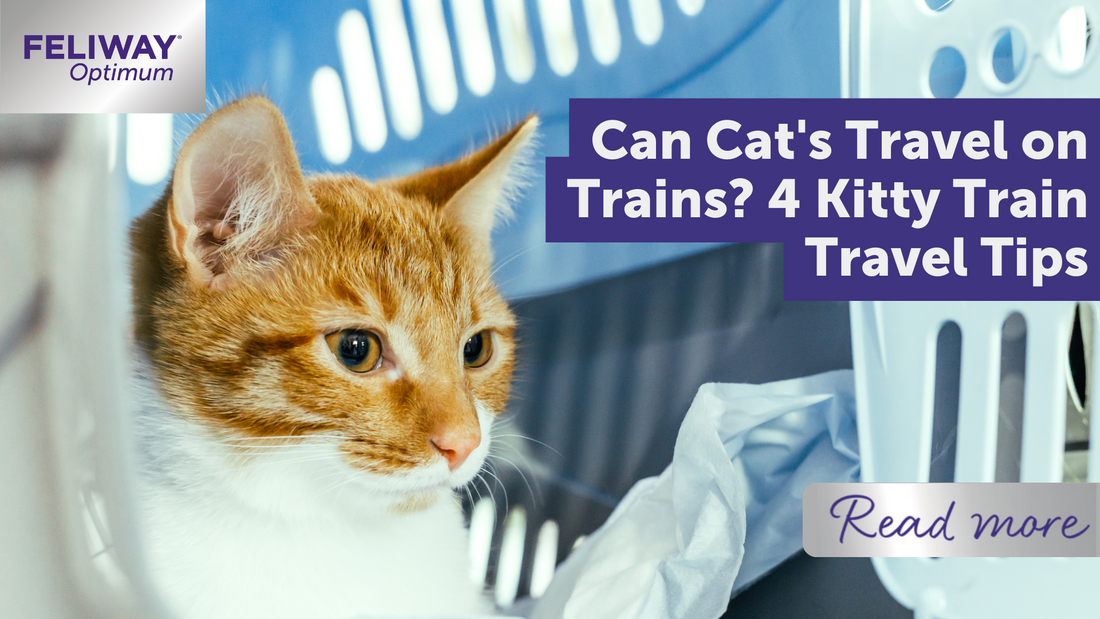 Can Cat's Travel on Trains? 4 Kitty Train Travel Tips
When you have to go away, do you find leaving your kitty with a sitter or in a cattery a little stressful? Perhaps you worry that your furry friend will be lonely if you are not around and wish you could take them with you? Well in some cases, you can! Of course, you're welcome to travel with your kitty in the car. But did you know that some train lines allow passengers to take small pets (like dogs and cats) with them on their journey?
Rules do vary from country to country, and between train companies, so always check both, before starting your journey. But, once you've made the decision to take your kitty with you, you'll need to make sure you're well prepared! These 4 Kitty Train Travel Tips will help.

1. PLAN BEFORE YOU TRAVEL
As a general rule, your cat should:
Be checked over by a vet before travel to ensure there are no underlying conditions that might develop during the trip.
Travel in a closed comfortable basket or carrier that is secure so they cannot escape.
Be microchipped, in case they get lost.
You'll also need to pack for your cat! Think about how to make new places as comforting and homely for your pet. Bring favourite bedding, toys, food, treats, disposable litter trays and (if you can), a scratching post. If a scratching post just won't fit in your luggage, try and arrange for one to be provided at your destination.
2. MAKE IT COMFY FOR YOUR KITTY
As your cat will be in their carrier for the duration of the train journey, make sure your kitty is familiar with their carrier weeks before you travel. Make it a safe place, and part of their everyday, by putting favourite blankets and toys inside so that they go in there to snuggle up when they want to. They will soon get used to it, so when you come to travel, the carrier will feel - and smell - like home.
To help your cat relax in and around their carrier, consider using FELIWAY CLASSIC Spray on your cat's bedding and in the carrier as it will help kitty stay calm and reduce stress.
Your choice of carrier is important too. Make sure you choose a carrier with handles on the side (rather than on the top), as the carrier is less likely to swing around and give your kitty motion sickness. It should also have a solid base covered with absorbent newspaper under the blankets, just in case your kitty has a 'wee' accident.
Remember that cats don't like a lot of noise and fuss, so choose your travel times carefully and avoid travelling at rush hour to keep your kitty as calm as possible. Don't make the journey time too long and take lots of breaks so that your kitty has plenty of comfort breaks to stretch their legs and use the litter tray.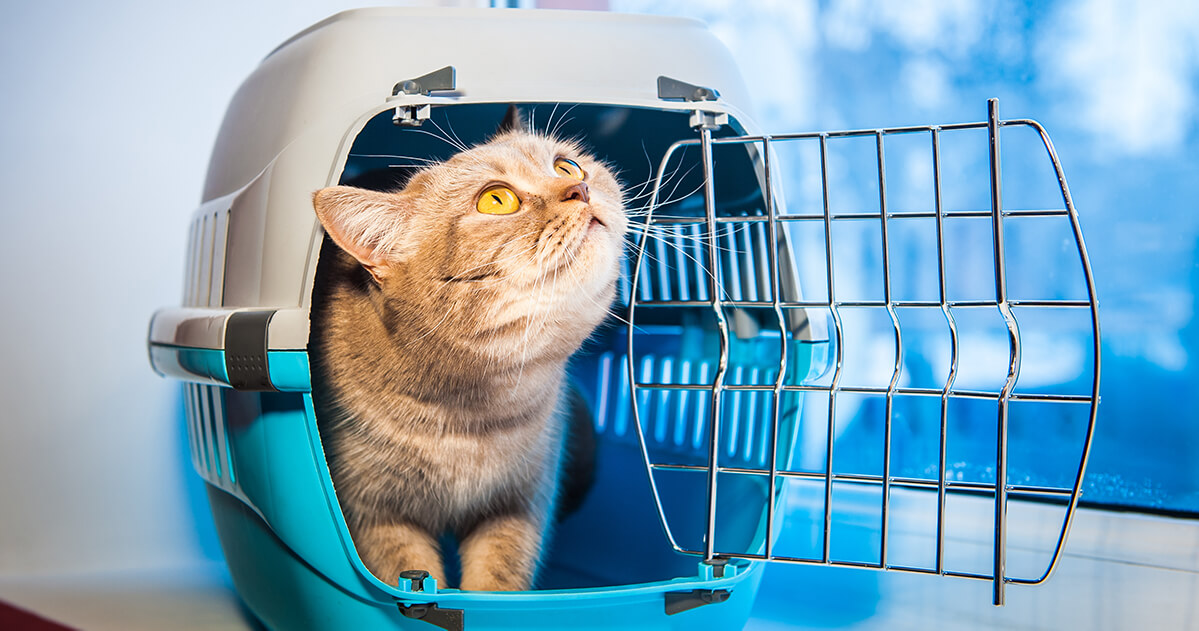 3. HELP YOUR KITTY WHEN YOU ARE TRAVELLING
When travelling, keep your kitty in their carrier at all times - if you do need to open the carrier slightly then be extra careful. It's important to make sure that your cat cannot escape, so you could consider also using a harness or lead as an extra precaution.
When travelling, lay a cover over the top of the carrier sprayed with FELIWAY Spray so that your kitty is not distracted by everything passing by. It's important to keep your kitty secure by placing a belt around the carrier or holding the carrier on your lap as long as this is secure. Be sure to talk to your kitty in a soft, reassuring voice to help keep them calm.
To avoid motion sickness, avoid feeding your car 5-6 hours before your departure. This will give time for the food to settle, and help to avoid motion sickness.
To keep your kitty hydrated, a non-spill water bowl should be placed in the carrier during travel. When the opportunity allows, place a disposable litter tray in the carrier for your pet to use, but carry extra towels too, in case of an accident. Always dispose of the soiled cat litter as soon as you can - remember cats are clean animals and you don't want to upset your fellow travellers on the train!
4. CONSIDER YOUR DESTINATION
Before travelling with your cat, it's also important to check that they will be welcome at your destination. Your kitty should be kept indoors while you are there - you don't want them to become lost or confused! Make sure that the room is secure and has lots of hiding places for your kitty to explore, access to enough resources!
Remember, cats like their home comforts so the more you make them feel at home, the more relaxed and happy they will be. Well before you travel, spray your kitty's bedding, the carrier cover and inside the carrier. Taking FELIWAY CLASSIC Spray with you can also support your pet, adding extra reassurance and helping your cat to travel happy!