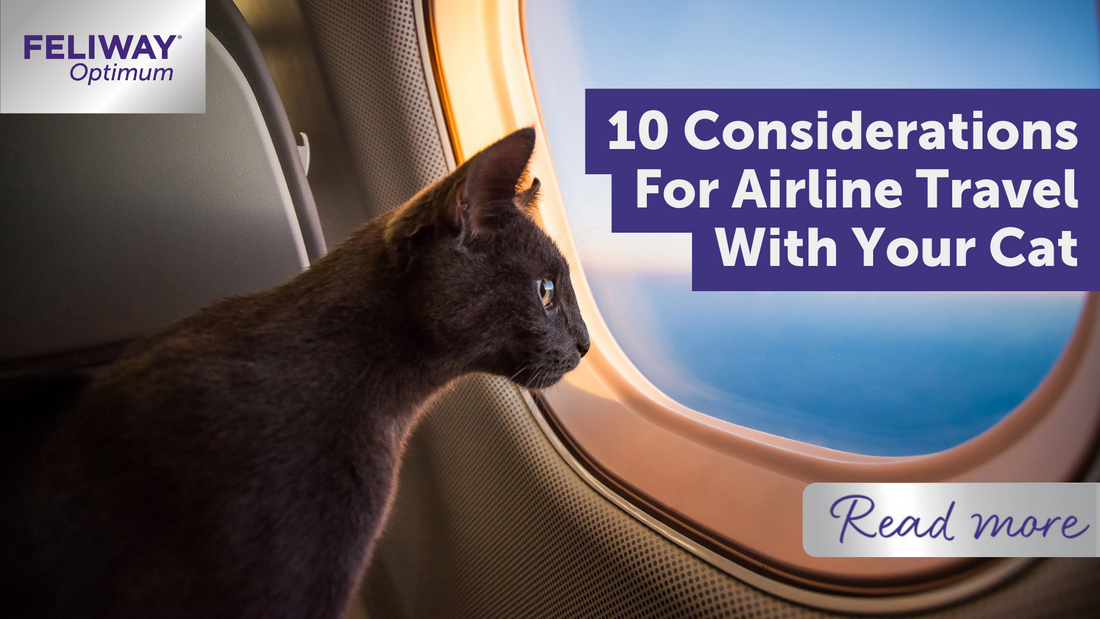 10 Considerations For Airline Travel With Your Cat
Do you think of your kitty as a sleek, international cat of mystery? Though our cats aren't always natural travellers, they can join us in cars, trains - and even in the air, with the right preparation.
Yet, while it's possible for your kitty to travel with you around the world, you should first consider whether air travel is really the best thing for your cat. All travel, but air travel in particular, is stressful for cats. It's loud, disrupts their routine and can be very confusing for a kitty. And, unless you can charter a private flight, or your pet can fit into limited space down by your feet, it's likely that your kitty will need to travel in the cargo hold.
Of course, the cargo hold can be very stressful for our pets! So while leaving our kitties at home with a sitter or boarder is hard, it's often the best option for shorter trips, or for older and easily stressed pets with medical issues who need daily care and a calm lifestyle.
But, there will be times when our pets must travel with us, such as for a one-way air trip. Here, the considerations below can help your kitty fly in style with you!
CONSIDERATIONS BEFORE TRAVELLING
Decided to bring your kitty with you on the flight? Then it's time to start planning! There's lots to consider and prepare to ensure a calm, easy trip, and to help your cat feel as comfortable as possible.
From paperwork, to medical considerations, to airline research, you should start planning your trip months in advance, to make sure nothing is forgotten on the day.
1. Find Out Entry Requirements
Do you know the entry and visa requirements for yourself before you book a trip? Of course! So, don't forget to do the same research for your kitty!
Before you book your flight, it's important to be aware of the paperwork and health requirements that your pet must meet to enter your destination, and be prepared for any requirements, such as quarantine, that may be enforced.
It's a good idea to visit the Department for Environment, Food and Rural Affairs (DEFRA) website to find out global entry requirements and to research the Pet Travel Scheme (PETS) if travelling within Europe and the EU in particular. Keep in mind that requirements may change over time, so be sure you are aware of the most up to date regulations.
2. Visit the Vet
Is your kitty healthy and travel ready? Make sure you visit your vet well in advance of travel (a minimum of 6 months if possible) as your pet may need certain vaccinations and health certificates. In some cases you will need to return to the vet 24-48 hours ahead of travel to obtain these heath certificates, so it's important to learn in advance what's required and when. If your furry friend has not already been microchipped, now is the perfect time to do so, and check the details are up to date!
You should also check with the vet that your kitty has no underlying health conditions that may be affected by the stress of travel. Keep in mind that it's often not permitted or advised to travel with cats who are younger than 3 months, or who are pregnant or in ill health.
3. Understand Your Flight Options
Once you're happy to fly with your kitty, and understand health and entry requirements, you can start to consider your airline.
There are lots of options when it comes to choosing the right flight for you and your pet. You should always check with the airline before booking, that pets are accepted. How each individual airline transports pets will also be a consideration; while some airlines may allow pets in the cabin with you under certain circumstances (inside an approved cat carrier), most will require that your kitty spends the journey in a special part of the hold, which is heated and pressurised (similar to the cabin). Note that there may be some exceptions made for service animals, but it's important to always check the exact requirements - and costs - for kitty air travel with each airline independently. Always notify the airline when you book your flights, and if you are told your kitty can travel with you in the cabin - try to get it in writing.
4. Stick to the Airline Requirements!
Once you know how your airline handles kitty travel - always stick to the rules!
For example, check airline guidelines and ensure you are using the correct carrier. The International Air Transport Association Standards says a kitty container must be large enough for your pet to stand up and turn around in with ease; be sure to check with individual airlines for any extra requirements. There will likely be restrictions on size, depending on whether you plan to travel with your kitty in the cabin, or in the hold. Note that if you're planning to travel with more than one cat, each will need their own container.
There may also be requirements about the age, size, weight, height or medical condition of your cat, and you will need to have the correct kitty documentation. Make sure you know about these in advance, for a smooth trip!
5. Try To Book a Direct Flight
Nobody likes to hang around airports, getting on and off planes and waiting for flights - least of all your kitty! Air travel will already be loud, confusing and scary for your pet, so if you can minimise the stress with a direct flight - do!
This can also reduce any problems that may occur around connecting flights, or conditions that your kitty won't enjoy, such as waiting around in very hot (or cold) places.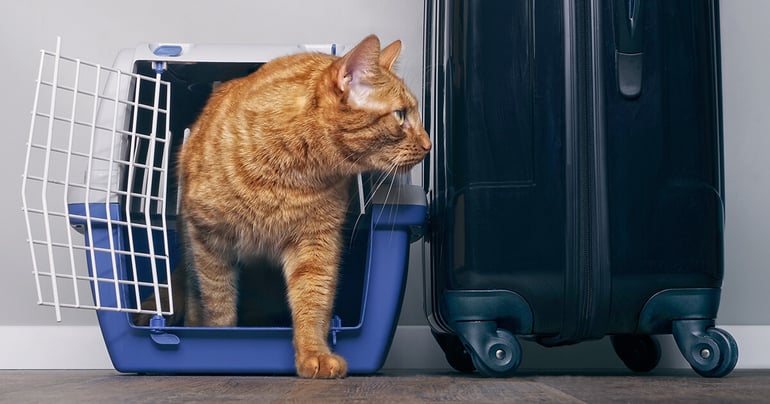 CONSIDERATIONS WHEN TRAVELLING
With the right pre-flight preparation, you and your pet will be ready to have a smooth journey! To keep things calm, on the day of the journey you should:
6. Arrive Early!
With any flight you should try to be early - this is even more important when you want to travel with a pet! Aside from having lots of extra paperwork and kitty travel requirements to check, keep in mind that many airlines have a limit on the number of animals allowed in the cabin - if there are too many booked on, travel will be first come, first served.
During check-in, the airline may ask you to take the cat out of the carrier for inspection. If your kitty is already wearing a harness and a lead, it will be much easier and safer to handle them; they may be stressed by the sounds and sights of the airport and more likely to try and escape!
7. Don't Forget Your Kitty Documentation!
It's not only you who needs to remember your passport! Keep your cat's health certificate and vaccination information with you at all times, and a copy attached to your kitty's carrier. Remember that you may need to get some health certificates from your vet as soon as 24 - 48 hours before travel.
8. Help Your Cat Feel Safe and Secure
Taking your cat on a plane or travelling with cats in the can be stressful, but the better you prepare and the more relaxed you are, the more comfortable your cat will be.
If you can bring a favourite blanket or toy with your kitty in their carrier, and speak to them in a reassuring voice during stressful moments this can help to reassure them that you are there and everything is OK! It may also help if you can cover the carrier with a cloth during travel to limit what your kitty can see - and stop them worrying!
To add additional support, consider using FELIWAY CLASSIC Spray on your kitty's blanket and carrier ahead of the flight (when your pet is not inside the carrier). This will reassure your furry friend with comforting messages, to help them feel secure in strange situations.
9. Considerations for Kitty Cargo Travel
If your furry friend will be travelling in the hold, double check that the inside of their carrier is padded and as comfortable and secure as possible - you don't want it to open during the flight! Ensure your kitty has access to water for the journey, as flying can be very dehydrating. You should also check that the bottom of the carrier is covered in an absorbent layer in case your kitty has an accident during the trip, or is travel sick.
Make sure your kitty's carrier is well labelled, with your name, address, mobile phone number, and both your departure and destination addresses. It is also a good idea to name some alternative contacts. For extra safety, in addition to microchipping your pet, have them wear a harness (not a collar) with identifying information on it for the duration of the trip; make sure your pet is used to wearing their harness before the flight!
10. Be Ready For Your Destination
When you arrive at your final destination and are ready to let your kitty out of their carrier - give them time to adjust. They may still be stressed or spooked, so may take time to come out, or may dart out and hide.
Give them space to calm down. Speak in a soft, reassuring voice, and keep food and water resources nearby to refresh your kitty when they are ready. If you can, try to bring some of your pet's everyday food with you so they have a familiar meal.
With the right considerations, travelling with your kitty doesn't need to be stressful for your pet. So if you're planning a flight, make sure you start your preparations as soon as possible!